(Last Updated On: July 28, 2017)
On May 14, 2015, a safety advisory was issued by Graco Canada, in conjunction with Transport Canada, regarding 1711 Snugride 22 rear facing only car seats with specific dates of manufacture and sold in 2013 and 2014. It was discovered that certain combinations of restraints and bases did not pass compliance testing. As such, there is the potential for injury to the child during a crash if the base and restraint are used together. There is a fix kit available from Graco Canada, and owners of the recalled products which were registered will be receiving a letter and instructions on how to get a repair kit from Graco Canada. If your restraint was not registered or you have moved, Graco Canada asks that you contact Elfie Juvenile Products, at 1-800-667-8184 or [email protected] to obtain a free kit or with questions.
The model number and date of manufacture are found on labels on the underside of the seat and inside the base. The restraint model number affected is 1871213 Snugride 22 "Metropolitan" with manufacture dates of Jan 29, 2013,  March 27, 2013, and April 11, 2014. The travel system model number affected is 187213 Fastaction Travel System "Richmond" with a manufacture date of November 8th, 2013.
Snugride 22 "Metropolitan" – 1805204

Date of Manufacture:

Jan 29, 2013

March 27, 2013

April 11, 2014
Fastaction Travel System "Richmond" – 1871213

Date of Manufacture:
It is imperative for caregivers to stop using the affected bases immediately for the child's safety. While waiting for the repair kit, parents and caregivers are being told to install the restraint without a base.  Here is a visual of  an installation without a base for a Graco rear facing only seat looks like.  Instructions for installation without a base are in your car seat's manual. If a new copy of the manual is needed, please contact Graco Canada for a replacement.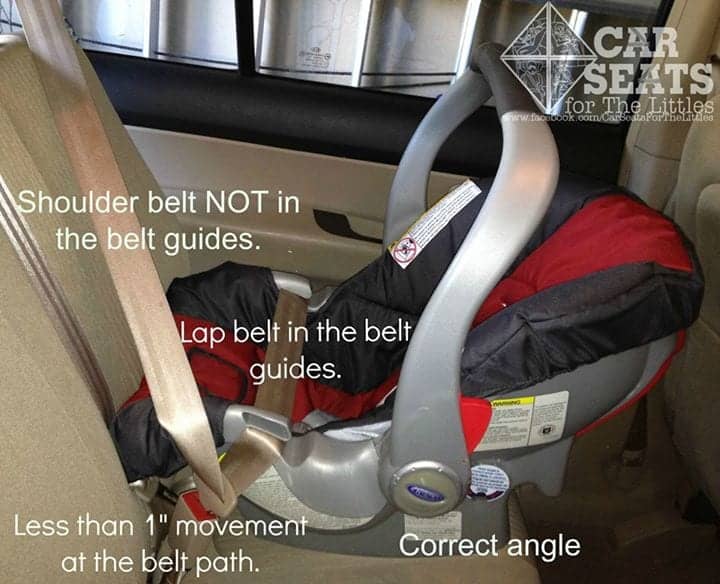 The restraint itself is not affected and it safe to use alone, as long as it is used properly, until the repair kit is received. There is no reason to immediately replace the usable restraint. The base should be disposed of properly, and Graco Canada recommends  that  consumers  "…should write on their base "DO NOT USE" or blur out the manufacturing date with a permanent black marker and dispose of it in the garbage." Graco has stopped production of this particular base, so the ones outside the recall range are not affected and there is no safety concern with using them properly.
Please see the full announcement on Graco Canada's website, where you can submit details to see if your restraint is affected by the recall, and also get more information.  See Transport Canada's advisory here. Please contact Graco Canada at 1-800-667-8184 or [email protected] with any specific questions or concerns. If you need help finding a CRST in your area, you can find one on the interactive map here.