(Last Updated On: March 14, 2023)
The RideSafer Delight Travel Vest is an updated version of the Ride Safer Travel Vest, which came in two versions: the RideSafer Travel Vest 2, and the RideSafer Travel Vest 3, or RSTV 2 and 3.  While both versions were quite similar, there were some notable differences between them.  Today's version of the vest is lighter and has a lot to offer.
The RideSafer Gen5 combines some of the best features from the previous versions in an updated form that's even smaller and lighter than its predecessors.
CSFTL Quick Stats
Size: Small
Ages: 3-6 years. This is the manufacturer's minimum age.  CSFTL doesn't typically recommend this vest for children quite that young – we'd suggest it for Littles who are closer to their 5th birthdays and older.
Weight range: 30-60 pounds
Height range: 35-50 inches tall
Size: Large
Ages: 5-10 years
Weight range: 50-80 pounds
Height range: 45-57 inches tall
Size: X-Large
Ages: 8-10 years old
Weight: 80-110 pounds
Height: 47-62 inches tall
The vest is also available in size XS.
We have some concerns about the XS (that's why we're mentioning it after introducing the larger sizes), it's not our first choice for restraints for a child who is that small but we do understand that families who ride in taxis a lot or travel internationally are using them so we want to acknowledge that this niche product does exist and share the age, weight, and height guidelines for its use.
Size: X-Small
Ages: 2+ CSFTL doesn't typically recommend this vest for children quite that young – we'd suggest it for Littles who are closer to their 5th birthdays and older.
Weight range: 22-44 pounds
Height: 30-45 inches tall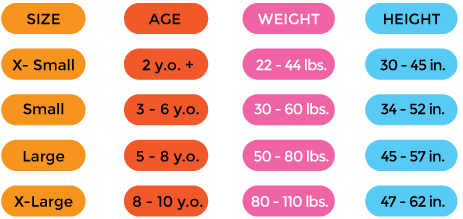 Measurements
Carpooling Essentials
Easy to set up without (very much or any) adult assistance
Easy to carry
Consistent belt fit
RideSafer Gen5
The latest version of the RideSafer is Gen5.  Like previous versions, the latest version can be used with or without the top tether, though we'll always advocate that the top tether be used.
The RideSafer Gen5 has a very sporty, easy-to-use backpack that makes carpooling a breeze.  Our model was quite ready to head out for an adventure!
Our Gen5 included many of the optional accessories, including the top tether and the optional neck pillow.
Buckle
The RideSafer Gen5 includes the latest and greatest version of the buckle.  Previous versions of the vest had buckles that left many a caregiver a bit puzzled at first but this version is the best one yet!
Leave it in the Vehicle
If you're using the top tether (and we'd always advocate that you do!), once the vest is adjusted to fit the child, it's fine to leave it attached to the vehicle between uses (as long as the same kiddo is returning to the same seating position later!).
Fit to Child
4 Years Old
This kiddo is closing in her 5th birthday (she's still 4, though!),  weighs 35 pounds, and is 39 inches tall.  She's wearing a size small in the Gen 5.  The vest fits her well but she definitely needed help in getting set up for this picture.  We understand that some families may use the RideSafer Gen 5 for their kiddos who are this young so we wanted to show how well it can fit.  We continue to recommend that children be closer to their 5th birthdays before they start to ride in the vest.
5 Years Old
This kiddo weighs 38 pounds and is 42.5 inches tall.  He's new to using the vest so it took some help from a caregiver to get him set up.  The vest fits him well and we have no doubt that as he gets more experience using the vest, he'll be more independent when it comes to using the vest properly.
5 Years Old
This model is 5.5 years old.  She weighs 54 pounds and is 46 inches tall.  She's sitting on the passenger side of a 2009 Toyota Highlander in the middle row.
The vest fit her well and I was able to get a snug fit around her waist even though she's toward the lower end of the size range.  The crotch buckle helped to keep the lap portion of the vest nice and low.
The shoulder portion of the vest had some empty space above her shoulders, which wasn't an issue, as her seat belt continued to fit well on her shoulder. For a child this age, the tether can provide extra assurance that she'll remain properly positioned even if she falls asleep.
This child usually rides in the third row because her car seat doesn't fit between her two younger brothers' car seats.  The RSDTV allowed her to fit on the very narrow second row seat between their Chicco Keyfit 30 and Graco Headwise.
6 Years Old
Our 6 year old model weighs 73 pounds, and is 47 inches tall.  He's wearing a size large in the vest.  Like our 4 year old model, he needed some help with getting set up but was able to sit properly once he was buckled in.
Deciding Between Sizes
Torso height is a big factor when it comes to figuring out which size vest works for older or bigger kids.  Measuring a child's torso height for an RSDTV is quite different than measuring a child's torso for a traditional car seat.
Instead of measuring from the child's bum to the top of the shoulders, measure from the top of the child's thighs to the top of the shoulders.
While the tether is optional (and an additional purchase), it may be beneficial.  We know that tethers play a critical role in preventing injuries to children in forward facing harnessed car seats.  Crash dynamics are quite different in a traditional harnessed seat compared to a RSDTV, but it's likely that the use of a tether will help to manage crash forces.  The tether can also help children who still tend to be a little on the wiggly side or who still struggle to remain properly positioned when asleep remain sitting upright, even if they're fast asleep.
Neck Pillow
The optional pillow is designed to increase comfort for a child who may want additional support behind their neck.
The pillow attaches via velcro strips on the back of the vest. To use the pillow, pull the tabs to expose the rough side of the velcro and attach the base of the pillow.
Inflatable Seat Belts
We were thrilled to see that the RideSafer Delight Travel Vest is approved for use with inflatable vehicle seat belts!  The Delight's shoulder belt clips were designed to accommodate both traditional and inflatable seat belts, so thicker inflatable belts should fit nicely.  It can also be used in vehicles with a lap only belt if the tether is used and secured to a designated tether anchor.
Delight Booster Seat
Over the years Safe Traffic System received feedback that some kids were frustrated by their inability to see out the window when traveling in their vest.  The Delighter booster seat solves this problem!
The RideSafer Gen 5 is a belt positioning product, which eliminates the need for a booster altogether.
The use of booster seats with the vests was strictly prohibited… until the Delighter came to market! While the Delighter may be used as a booster on its own, it is the only booster approved for use with the RSTV/RSDTV.
Since the Delighter allows a child's legs to curve over the edge of the booster seat, it helps many kids feel more comfortable and eliminates the desire to slouch to the vehicle seat edge.
Pros
Lightweight
Extremely portable
Easy to use with lap/shoulder belt
Doesn't take up any more space in a vehicle than the child's body does
Easily adjustable to fit various kids and vehicles
Cons
Can be tricky to thread the seat belt through
Important Information: Where to Find
Manual storage: The manual is a little hard to find at first — it arrives tucked away in its own handy little pocket on the inside of the vest.
Date of Manufacture label: This label is next to the manual storage pocket on the inside of the vest.
FAA Approval: At this time, the Delight is not FAA approved for use on aircraft.  We very much hope to see that change in the future given how travel-friendly this product is.
Overall Thoughts
The RideSafer Gen5 is an innovative and unique product.  It can function either as a wearable booster or, if the tether is attached, as a kind of hybrid between a harnessed car seat and a booster seat. This makes it a remarkably versatile product for school-aged children.  It's a dream to travel with, thanks to its small size — simply toss it in your bag and you're ready to go!  The sizes available fit a broad range of children and the adjustable belt guides achieve a consistent belt fit in the vast majority of vehicles and seating locations.
This review was originally written by Abbie Patterson, former CSFTL contributor. Edits and updates are maintained by the CSFTL Editorial Team.